Laser Treatment for Sensitive Teeth
Gentle Laser Care for Subtle Smiles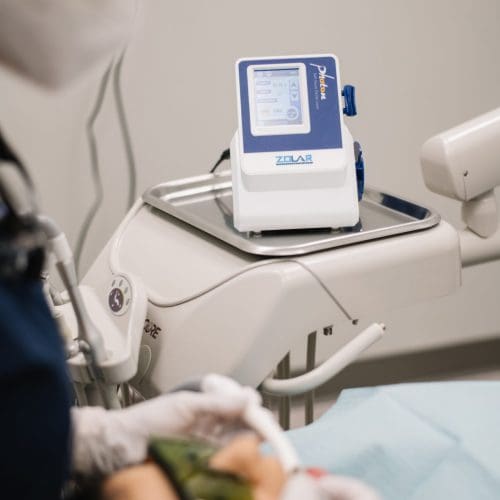 Understanding Tooth Sensitivity:
Tooth sensitivity develops when the tooth's underlying dentin layer is exposed. This exposure may be caused by a number of things, such as:
Gum Recession: Receding gums may expose the vulnerable tooth roots.
Enamel Erosion: Acidic meals, drinks, or toothbrush abrasion can cause the protecting enamel to wear down.
Tooth decay: Cavities may reveal delicate dentin, causing tooth decay.
Cracked teeth: Teeth with minor cracks may allow external impulses to enter the tooth's nerve.
How Does Laser Treatment Work for Sensitive Teeth
Effective Desensitization: Dental lasers have the ability to precisely target and permanently block the dentinal tubules that are in charge of transmitting pain impulses, thereby efficiently lowering tooth sensitivity. The best part is that laser treatment for sensitive teeth (due to cold) is virtually painless and patients experience relief immediately post-treatment.
Non-invasive: Laser therapy is a non-invasive procedure and it is pain-free.
Rapid and Painless: Laser treatment does not take a long time and does not hurt.
Instant Relief: After receiving laser therapy, many patients report experiencing instant relief from tooth sensitivity.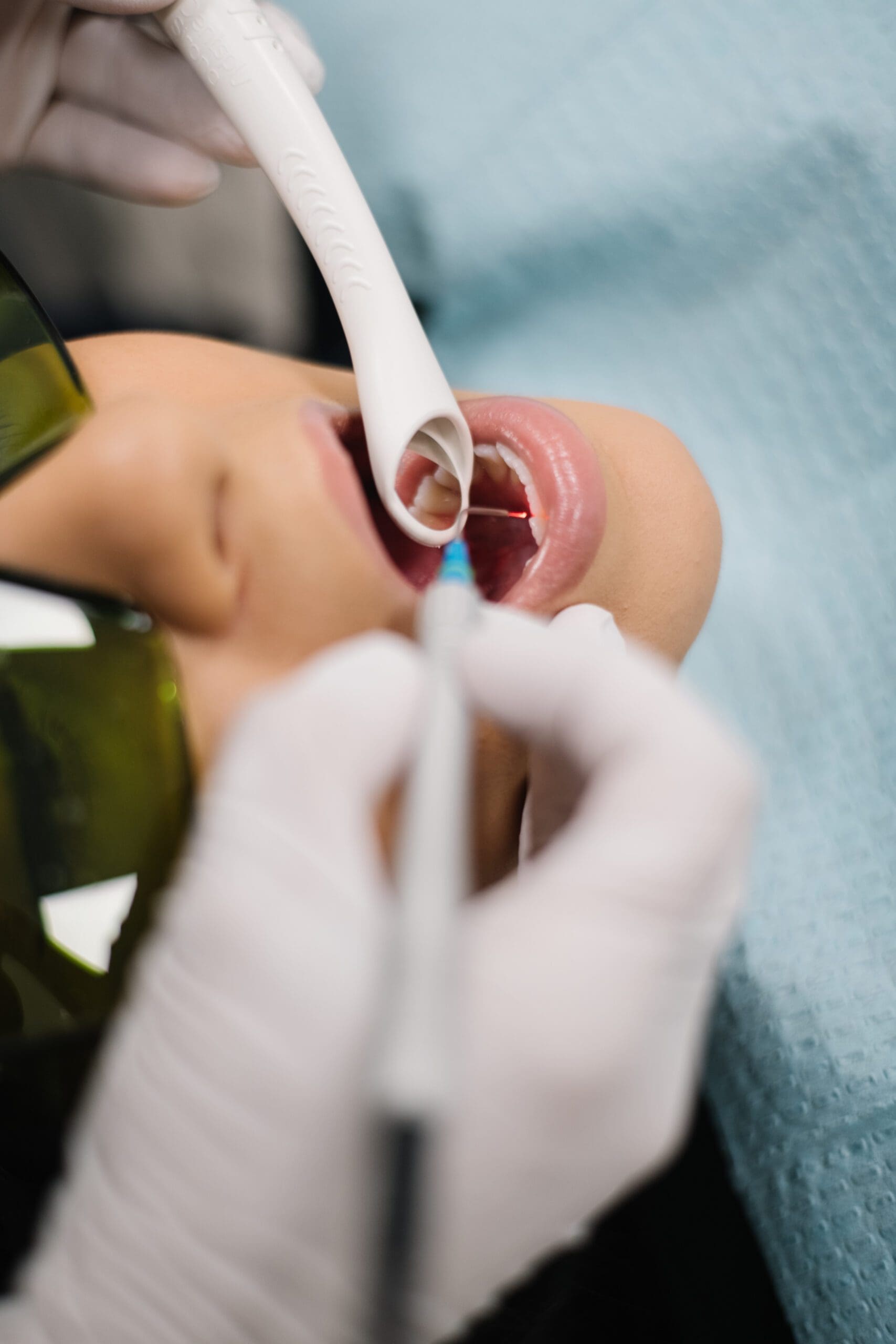 When Do You Need Laser Treatment for Sensitive Teeth?
You should choose laser treatment if you experience any one or all of the following:
If you experience dental sensitivity while consuming cold food or drinks or your teeth feel sensitive during dental hygiene visits and want to enjoy your food and dental visits.
If you have tried desensitizing toothpaste, but felt no real change.
If you are looking for a minimally intrusive way to keep your teeth free of dental sensitivity.
Step-by-step
Diagnosis: The hygienist will examine your teeth and find the root cause of tooth sensitivity through x-rays, meticulous periodontal examination, and other dental tools.
Isolation and Protective Eyewear: Laser protective eyewear is worn by the clinician and the patient during laser treatment for sensitive teeth. A rubber dam or cotton will be used around the affected teeth to keep the area free from saliva and dry.
Desensitizing Agent (Optional): If needed, a desensitizing agent may be applied to the uncovered dentin to improve the treatment's effectiveness.
Laser Application: Dental laser will be used to effectively target the exposed dentine. The focused laser energy is then directed to cover the dentinal tubules effectively, establishing a protective layer.
Post-Treatment Care: Your dental hygienist will guide you about the post-procedure instructions and may recommend a specific toothpaste to maintain your oral health.
Immediate Relief: In most cases, patients feel relief from sensitive teeth right after their laser treatment procedure.
Follow-Up: Your Hygienist may schedule a follow-up appointment to ensure the treatment's effectiveness.
Risks and Considerations:
Although laser treatment for sensitive teeth is usually safe, there are a few things to keep in mind:
Laser therapy may not be appropriate in all cases of tooth sensitivity. To figure out the best treatment for your unique problem, consult your dentist.
During the procedure, some people could feel minor discomfort, but it's usually bearable.
If you are concerned with the cost of the treatment, it's important to go through the financial details with our receptionist. They will be happy to assist with any potential insurance coverage and answer any of your financial questions regarding the treatment.
Laser Dental Treatment in Edmonton
At Clean Smiles, we offer state-of-the-art laser treatments for sensitive teeth, including:
Laser Teeth Whitening: Improve your smile with our cutting-edge laser teeth whitening.
Laser during Teeth Cleaning: Experience a deep and thorough cleaning with collaborative laser technology for enhanced and improved oral health.
Why should you choose us?
At Clean Smiles Dental Hygiene Clinic in Edmonton, we invite you to experience our hygienic, peaceful, and friendly environment. We strive for excellence with our ongoing skill development. We stay up-to-date with the advancements in dentistry and use the most advanced equipment. Our laser treatment experts will provide you with a satisfactory procedure for sensitive teeth. Book an appointment now.
We will contact you shortly to schedule your appointment