Dental Hygiene Services in North Edmonton
Now Accepting New Patients in North Edmonton!
Clean Smiles Family Dental Hygiene Services in North Edmonton
Visit us in our Dental Hygiene Clinic Griesbach, North Edmonton location for all Dental Hygiene services.
We provide a warm and welcoming atmosphere with clean, private and calming space to make you feel comfortable. Our five-star team is professional, experienced, compassionate and friendly with an upbeat attitude.
We explain each step of our dental hygiene procedures in advance, to make sure that our patients are well informed and comfortable during their treatments.
Guided Biofilm Therapy - GBT
Patient comfort during dental hygiene services is our top priority, along with providing dental care with high standard of care.
We are thrilled to provide Guided Biofilm Therapy for dental hygiene visits.
We use EMS AIRFLOW Prophylaxis Master Unit for Guided Biofilm Therapy (GBT).
This means gentle but effective dental cleaning while using warm water. The procedure is very comfortable and ensures the removal of bacterial buildup (biofilm).
Guided Biofilm Therapy is very well researched and desirable method of gentle dental hygiene treatment and is suitable for kids and adults.
Book and appointment for gentle and effective Dental Hygiene (teeth cleaning) and feel the difference.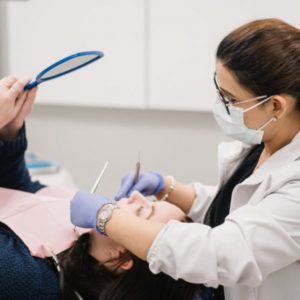 Comprehensive Intra Oral and Extra Oral Screening
At clean smiles, Dental Hygiene screening is performed by our registered hygienists. Digital X-rays are obtained to screen any dental or periodontal problems.
Intraoral cameras are used to perform Intraoral screening. Extraoral screening is also done along with cancer screening.
Dental and Periodontal Exams
We perform a dental hygiene examination to check oral health, tooth decay, gum disease (gingivitis), disease of the bone surrounding the tooth structure (periodontitis), or any other underlying oral health problem for early detection.
Advanced level of examination which is called periodontal exams are performed by our experienced dental hygienists to evaluate the health of your gums and bones.
Professional Teeth Whitening
Teeth whitening can lift the stains on natural teeth that accumulate over time. We offer Zoom Teeth Whitening Treatment. Are ready to have a bright smile? Give us a call and book a consult and see if this treatment is right for you.
Scaling / Teeth cleaning service
We offer a customized and amazing periodontal program at Clean Smiles Dental Hygiene Clinic. Our Hygienists are experienced, professional, compassionate, very gentle, and skilled!
Generally speaking, we recommend visiting our clinic every six months for Scaling and teeth cleaning service. Our team will help you get over any gum disease, periodontal problems, cavities and excessive plaque buildup.
Our dental hygienists provide a custom periodontal plan to improve your oral and dental health after the treatment.
Periodontal Maintenance
For patients with active or arrested periodontal disease, our practitioners recommend a customized plan to have periodontal maintenance to maintain the gums and surrounding bone health.
At Clean Smiles Dental, our dentist or dental hygienist perform the procedure thoroughly to remove biofilm, calculus (tartar buildup) and plaque from above and below the gumline.
Professional Care for Dental Implants
Dental implants are typically a single tooth replacement where we replace the lost or damaged tooth with an artificial one.

Dental implant/s is a great investment in your oral care, so it should be protected that way. We provide extra attention and care for implant/s and surrounding tissues so it can last for many years.

At Clean Smiles Dental, we have an amazing implant maintenance protocol that our hygienists follow for professional cleaning around implant. Our team will perform a safe and thorough cleaning of all the teeth including the implants. Along with keen professional care, we go over proper home oral care for implants with patients to achieve optimal results.
Laser Treatment for Sensitive Teeth
Have sensitive teeth? Try PAIN FREE Laser Treatment to prevent sensitivity. Laser treatment for sensitive teeth is a non-invasive and long lasting (in some cases permanent) solution.
Give us a call if you would like to see if laser treatment is right for you to stop the teeth sensitivity.