We're happy to see you here!
Clean smiles dental hygiene clinic is fully licensed by the Alberta dental association and CRDHA . Our team of dentists and dental hygienists is highly trained and registered individuals who can provide you with routine check-ups to emergency procedures.
Meet Anila Irfan, owner of Clean Smiles Dental Hygiene Clinic and an amazing independent registered dental hygienist.
Anila is passionate about what she does. She strongly believes that oral health is connected to overall health. She strives to keep patients away from dental problems. She advocates for prevention, and to maintain healthy teeth for a lifetime.
Anila lives with her husband and two little munchkins. She enjoys cooking and reading in her spare time. Her vast knowledge, experience, and passion for dentistry make her an amazing Dental Hygienist that everyone loves.
Meet Carla, our amazing independent registered dental hygienist.
Carla has years 7 of experience as a dental hygienist. In all these years her passion for dentistry has only grown. She loves to work with a holistic approach, integrating all aspects of her patient's concerns and their lifestyles to achieve long-life healthy oral health.
In her free time, she loves to rock climb and walk the trails around the river valley. Whenever possible she loves to go traveling with her husband.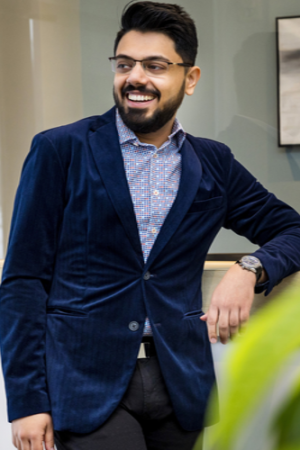 Meet Dr. Syed Haider, an independent general dentist and an amazing part of our team.
He provides all dental treatments for optimal dental health. He is very friendly and concerned for his patients and takes out ample time to listen to them. He is passionate about dentistry and is always striving towards acquiring the newest and latest technologies and skills to provide the best results to our patients.
Dr. Haider lives with his amazing wife and with his two adorable twin boys. In his free time, he enjoys cooking with his family, reading, and painting.
At Clean Smiles Dental Hygiene Clinic in North Edmonton, we understand that every smile has its own unique needs. With this in mind, we encourage our patients to talk to us about their dental concerns and goals during their examination. Our highly skilled, experienced, friendly and companionate dental team is dedicated towards taking care of your and your family's oral health.
Clean Smiles Dental Clinic in Griesbach, North Edmonton provides affordable dental care with great standards. We offer general family dentistry and emergency dental care including dental cleanings, restorative dental work, dental bridges, dental crowns and extractions etc. At Clean Smiles Dental, the dental services for all ages are performed by highly-trained dental care professionals that are highly trained and have with years of experience in dental industry.
We offer customized consulting and the latest treatment techniques including laser dentistry utilizing the newest technology to deliver the highest standard of dental care. Each dental treatment plan is custom-tailored to you assuring the best results. Private treatment rooms ensure that patients enjoy services in a calming, confidential, stress-free environment.
It is our firm assertion that family and kids dental care is a vital aspect of self-care and that dental health is directly related to overall health. We're a people-focused clinic committed to providing the best dental care for kids and families. After all, your smile deserves nothing less but the best!
Clean Smiles for Community