Family Dental Services in North Edmonton
Looking for a family dental services in North Edmonton?
You're at the right place!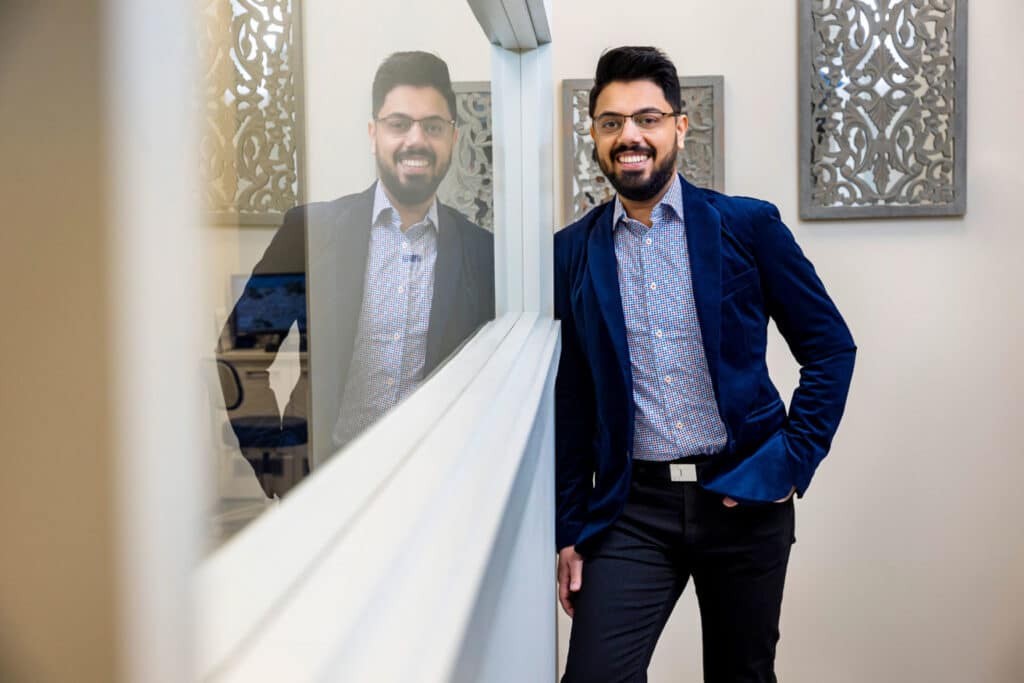 Meet Dr. Syed Haider, our independent general dentist at Clean Smiles Dental Hygiene Clinic. Dr. Haider and his team is here to help you. When it comes to dental care, we believe in providing professional, advanced and customized services. We follow Alberta Fee Guide.
Our goals are
To provide optimal dental and preventative care
To build a bond of trust with our patients
To know their dental goals.
To know their fears and expectations.
To provide them with customized dental treatment.
We welcome you to book your dental appointment!  Our team is ready to help you.
Clean Smiles Family Dental Services in North Edmonton
Visit us in our Griesbach, North Edmonton location for all Dental and Hygiene services. We provide a warm and welcoming atmosphere with a clean, calming, and private space to make you feel comfortable. Our team is professional, experienced, and friendly with an upbeat attitude.
Digital X-rays and Dental Examination
We use the latest digital dental X-rays at the Clean Smiles that are processed safely and immediately by our trained staff.
Restorative Dentistry (Dental Filling)
We provide restorative treatments with the latest technology. Procedures like fillings, crowns, bridges, and implants are some of many other dental services that are performed by Dr. Haider in the clinic.
Root Canal Treatment
We do our best to save your teeth from extraction. Immediate root canal treatment is done to take the patient out of the pain, and maintain the integrity of tooth structure.
Laser
Dentistry
Laser dentistry is provided for teeth whitening, sensitivity, root scaling, and removing the decay. Dr. Haider provides laser treatment for cold sores. A desirable time to have this laser treatment for cold sores is during its initial stage.
Dental Crowns and Dental Bridges
A dental crown is a tooth-shaped cover that is placed on the tooth to provide protection, strength and in some cases for aesthetic reasons. We restore the missing teeth with Prosthetic dental implants to bring back your beautiful smile.
Tooth
Extraction
Dr. Haider is providing emergency dental services. Tooth extraction or taking a tooth out is needed in some cases, due to poor prognosis and the tooth is not in the condition of being saved. We make sure to discuss the treatment options and procedure with the patient beforehand.
Emergency
Dentist
We are here to provide all emergency dental services. Call us anytime to get the professional and prompt dental care that you deserve.
Dentist Check Up
At Clean Smiles Dental, complete dental checkup with recommendations for customized dental treatment for optimal dental health, is provided by Dr. Haider.
Custom Night/Mouth Sport Guards
Nightguard with the perfect fit is specifically useful to protect teeth due to bruxism (involuntary clenching or grinding teeth). Athletes and bikers can get their customized Sports guards at our clinic as well.
Veneers
Porcelain Veneers can help attain the perfect smile. We plan customized treatment for our patients that can fit their lifestyle and their expectations.
Dentistry for Kids
Dr. Haider and his team are awesome with kids. We make sure that their experience with us is fun, comfortable, and pain-free for their pediatric dental treatment
Invisalign Orthodontic Treatment
We are offering invisalign orthodontic treatment. Book your free consultation for invisalign today and a have digital scan done, and find out if this treatment is right for you.
Emergency Dental Care
Have a dental emergency?
If you are experiencing pain and need emergency assistance, call us immediately!
Our team is here to assist you immediately.
(780) 800-6655
Complete Care On Your Schedule
Bringing life to your smile.