Invisalign Orthodontic Treatment
Aligning Smiles Discreetly and Confidently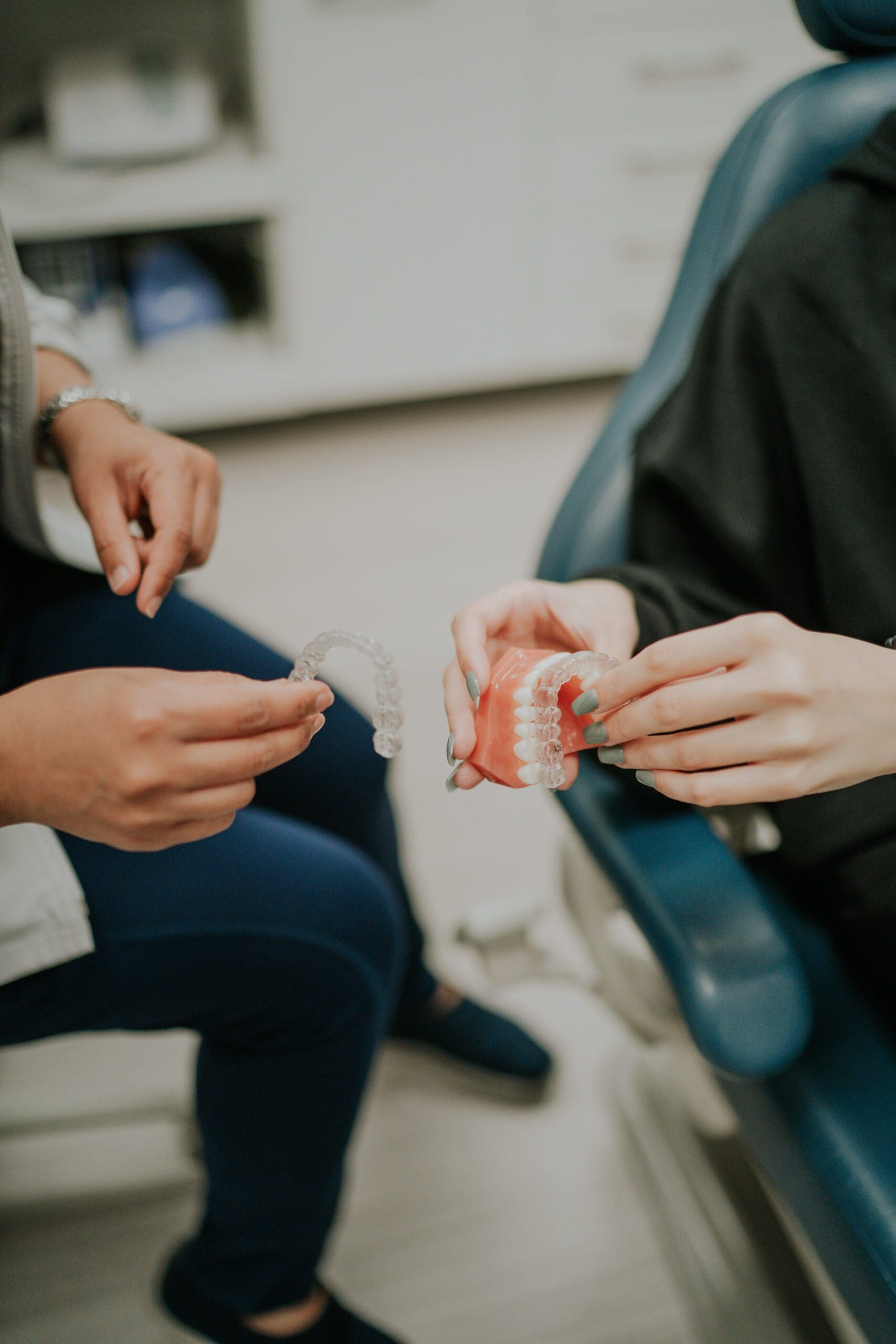 What is Invisalign?
A popular orthodontic treatment approach called Invisalign employs a set of transparent, removable aligners to straighten teeth and treat your orthodontic problems. They are customized for each patient, offering a more subtle and convenient alternative to traditional braces.
What are dental retainers?
Retainers are the devices designed to maintain the teeth alignment after the completion of Invisalign process. They prevent the teeth from shifting back to their original positions as they were before Invisalign or braces treatment. Retainers are one of the most significant parts of your orthodontic treatment.
Types of retainers
Removable Retainers:
They are made up of plastic or acrylic material. They are easy to wear or remove. They are commonly used after Invisalign or traditional braces treatment.
Bonded Retainers:
These are made of thin wires, permanently bonded to the back or tongue side of your teeth. They are not noticeable from the front of your teeth. They are often recommended for cases where there is a significant risk of teeth reverting into their previous malaligned positions.
Process of getting Invisalign orthodontic treatment  
Consultation: Our dentist will examine your teeth, obtain a digital scan and take some pictures of your facial profile and of the dental arches, and then discuss the best suited orthodontic treatment plan with you. 
Treatment plan: If Invisalign treatment is suitable for you then your digital scan will be sent out to the lab to fabricate the trays as per our Dentist's treatment plan.
Aligner Fabrication: A set of clear aligners is customized specifically for you based on the treatment plan. Your teeth will move into the proper position gradually with each pair of aligner trays. The complexity of your case will determine how many aligners are used in the series and how long the treatment will take to complete.
Wearing the Aligners: A series of aligners will be given to you; you must wear each set of aligner trays for around two weeks before switching to the next. They must be worn for at least 20 to 22 hours every day. They can be removed while eating and drinking. 
Progress Checkups: Your orthodontist will check in with you on a regular basis to assess your progress and provide you with fresh sets of aligners. These examinations normally take place every 4-6 weeks.
Results: You will start feeling and noticing the progress in a few weeks of starting the treatment. Your teeth will slowly shift into the desired functional alignment. Invisalign trays are nearly invisible aligners which makes your treatment less noticeable compared to metallic braces. 
Retention. Right after you complete your series of Invisalign, you may need to wear retainers which depend on your dentist's recommendation.
Benefits of Invisalign
Nearly invisible appearance
Removable for eating and cleaning
Comfortable and unlikely to cause irritation
No dietary restrictions
Easier oral hygiene maintenance
Predictable and customized treatment
Fewer orthodontic appointments
Minimal lifestyle disruption
Effective for various orthodontic issues
Who needs Invisalign braces?
People with minor to medium teeth misalignment
Those with spacing issues or minor gaps between teeth
People looking for cosmetic or functional improvements to their smile
Those with overbites, underbites, or crossbites
Individuals with open bites or orthodontic deterioration cases
People looking for a more subtle orthodontic treatment
Those who prefer removable aligners for convenience
Interested in Invisalign near you?  
If you are looking to have Invisalign treatment for yourself or your kid. Clean Smiles Dental Hygiene Clinic in Edmonton is ready to serve you. Schedule your appointment now or visit our clinic in Edmonton.
We will contact you shortly to schedule your appointment